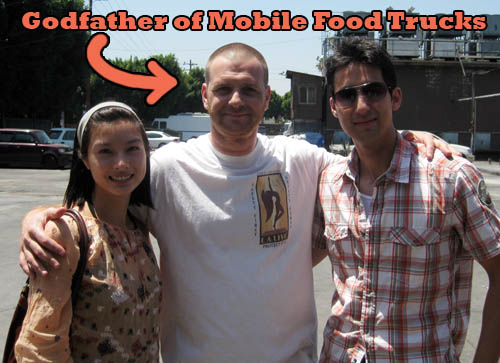 Misa and I took a trip out to meet with the Godfather of mobile food trucks (at least thats what I like to call him), Morris Appel, owner of Road Stoves (www.roadstoves.com).  For those of you who dont know, this is the guy who has been an integral part of the recent mobile food truck boom in Los Angeles, and a staple in the traditional mobile food truck scene forwellforever!  With more than 80 trucks in his possession, Morris is the Don of the mobile food scene in Los Angelesand hes just getting started.  ;)  Kogi works with him, Green Truck works with him, Barbies-Q works with himand now, Nom Nom is going to work with him!  Were super stoked to be involved with such great company and get a chance to share in the comradery among the different trucks in the Road Stove family. 
In fact, while we were at the Road Stove lot, we happened to run into the Kogi crew, gearing up for the day!  Roy Choi, the head chef for Kogi, told us that Morris was the best in the business, so thats pretty much all we needed to hear! 
Now its just a matter of outfitting the truck with a few key appliances we need to make some kick-ass banh mi and painting/decorating our truck with some crazy nom nom graphics, and were ready to go!  Late August is just around the corner!