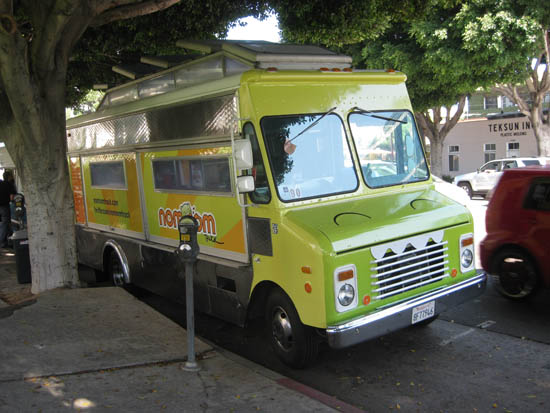 UPDATE: We had a slight change to our weekly schedule at the last minute!  We have switched our Thursday and Friday lunch locations, so now were doing 5900 Wilshire Blvd. on THURSDAY and UCLA on FRIDAY!  Sorry about the last minute change!  It turns out 5900 Wilshire is having a special Health Fair event this Thursday, and they asked that we bring our Nom Nom Truck to attend!  We certainly didnt want to turn them down, so we had to fudge with the schedule a little bit.  Hope to see you out there!
We just set our schedule for the week of October 5th!  Were finally going to try getting out on a Monday this week, and Hollywood is the lucky location that were heading to!  Weve been out there by the CNN building before, and it went pretty well!  Hopefully we can get a decent crowd again!  Later this Monday night weve been asked to park in front of Crown Bar (7321 Santa Monica Blvd. in West Hollywood), where there will be a standup comedy fundraiser.  The fundraiser is a night of standup featuring many of todays top stand up comics including Nick Kroll (Best Week Ever), Aziz Ansari (Parks and Recreation), TJ Miller (Cloverfield),  MONROK (Californias Funniest Female), Matt Braunger (MADtv), and Maria Shehata (Comedy Central). All of the proceeds go directly to the Leukemia and Lymphoma Society.
Weve got some new locations on the schedule this week, with Renees and Footsies coming into the mix!  UCLA is back on the schedule as well, as is 26th and Pennsylvania (where we havent been able to go to for a little while now).  Were also heading out to downtown Los Angeles for Art Walk for the first time this week!  We hear it gets pretty busy out there!
As always, the weekly schedule is always subject to change (although its usually pretty accurate).  In case we cant find parking or we get booted from our spot for some reason, well do our best to update on Twitter.  Hope to see you out there this week!  =D