Last Saturday night we had an amaaaazing launch party (just for family and friends) organized by the event planning Creatlive.  The venue was perfect, the sponsors were wonderful, and the turnout was great! Here are some behind the scenes photos of the event along with a look into our Nom Nom truck + team (you will be seeing us soon!)
Unfortunately our truck wasnt done being wrapped until right before the event, so we ended up showing up at our launch party right when it started, at 8 PM.  We were not able to prep anything on the truck before we arrived, so we ended up just cooking right on the spot when we got there.  Although it was completely chaotic in the beginning, our amazing team worked it out and the Nom Nom truck was soon up and running!
We were really lucky, for the photographer Christopher Wu got in behind the scenes during this time and took these photos to depict our experience in the truck: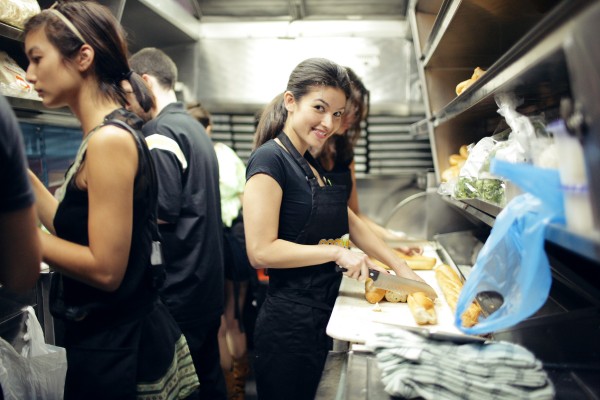 Our two lovely hapa girls on the team, Kelly and Monica, prepping our delicious Banh mi bread: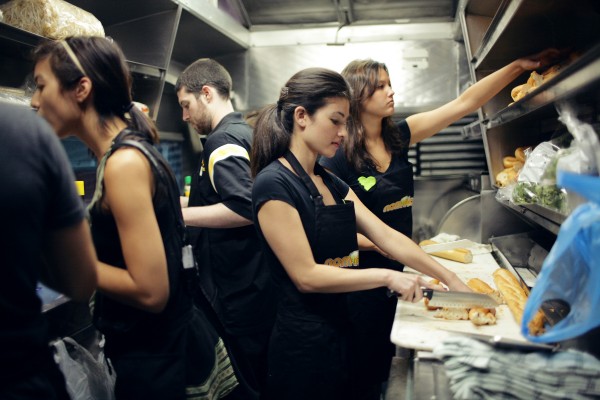 Devon working hard slicin our fresh cucumber for sandwiches (I dont know what Davids doing in the background :-P):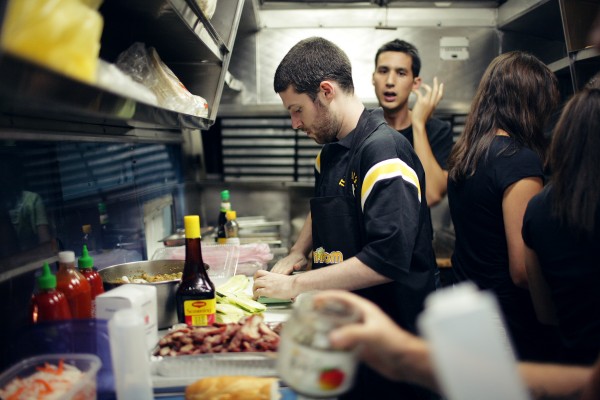 I think I was just really confused in this photo and just trying to figure out what needed to be done next: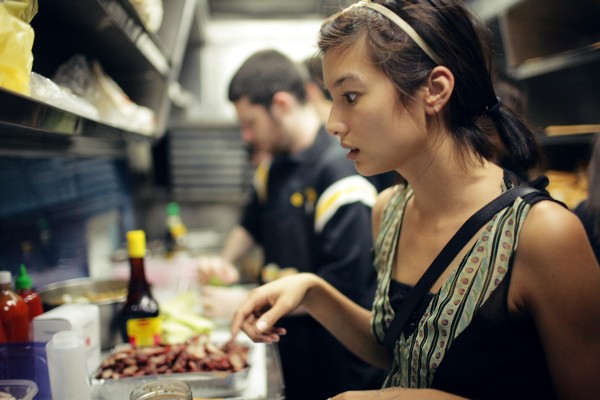 Diddo in this photo for David: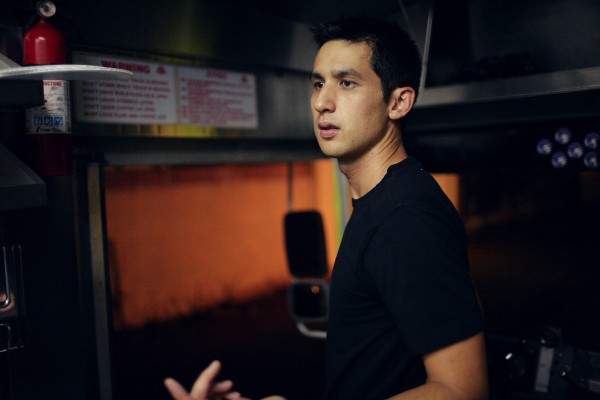 Photo from below: me and Ben prepping the Banh Mi: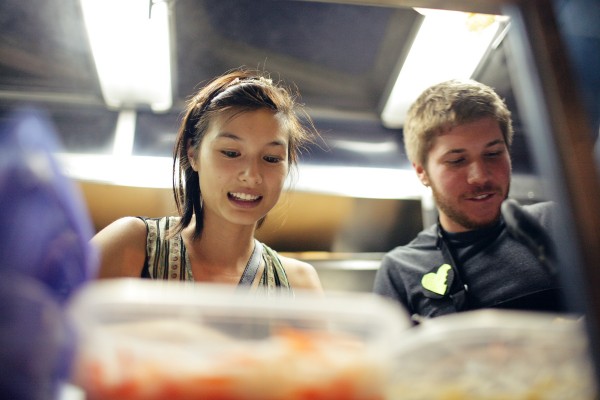 Beard Papa was actually one of our sponsors for the event.  They were not only an amazing sponsor that made delicious cream puffs and pastries, but these yummy creampuffs were keeping our crowd happy that had to wait for us to make their sandwiches (we didnt start serving our first sandwich until 8:15!)  I never got to actually try any (although I have before) because they were eaten up so quickly!  Ahhh this photo is making me hungry!  If you want to pick some of these up for yourselves go to: 2130 Sawtelle Blvd. Suite #110. Los Angeles, CA 90025.  Nom nom nom.  I want to eat these now.  Thank you Beard Papa!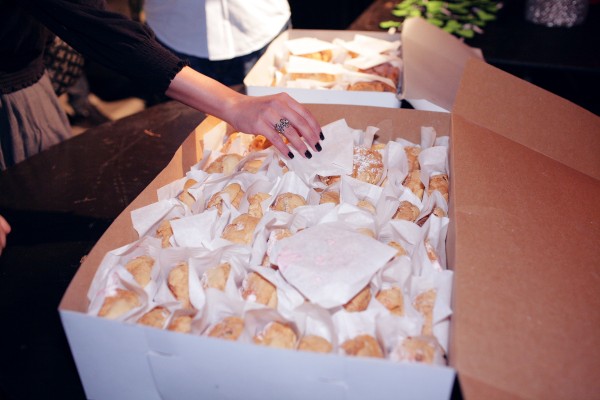 Our friends and family eagerly waiting for our food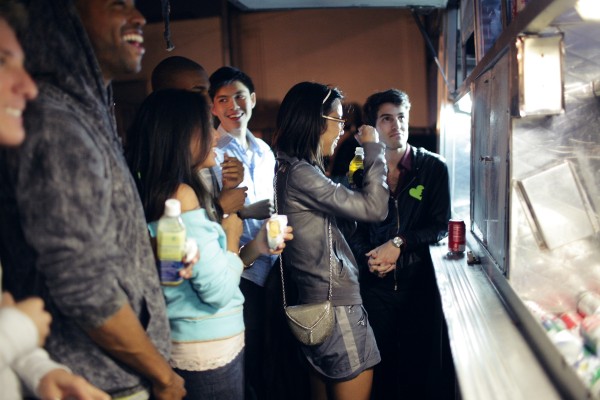 Freshly sliced cucumber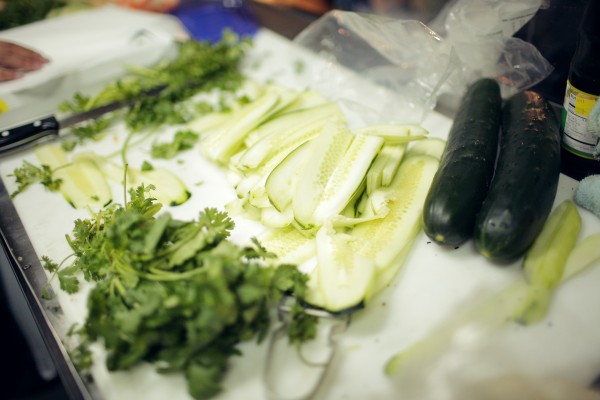 We cooked the meat right on the spot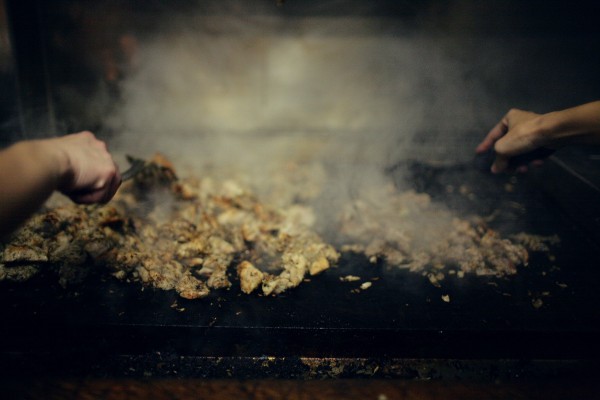 Prepping the Banh Mi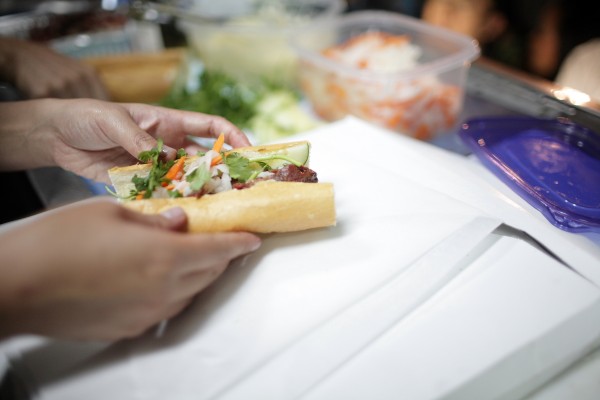 I love this photo not only because it is a great photo, but also because my friend Bradney looks so pleased to receive Banh Mi: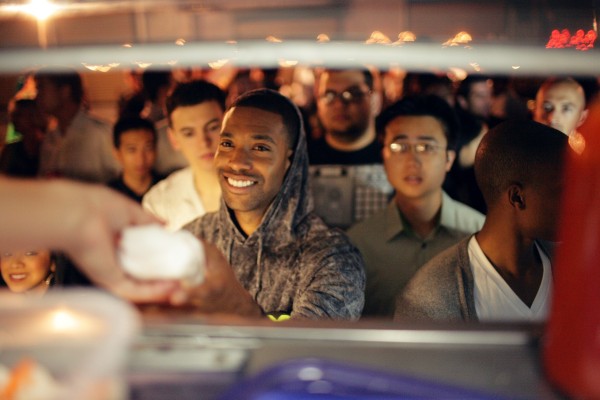 To wash down our yummy menu we luckily had Ito En, who provided us with tasty lemongrass green tea.  They were actually just named best iced tea by Fitness Magazine!  It was a huge hit at the launch, and was the perfect combination with our lemograss chicken tacos and sandwiches!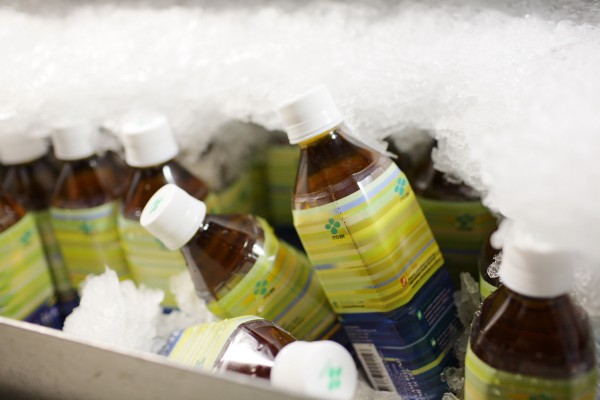 Bernice and Amanda of Creatlive.  They not only created this adorable photostaion where people could take photos in cute Nom Nom hats, but they also cut out these perfect Nom Nom pins, giving each person a party favor to bring home to remember our launch.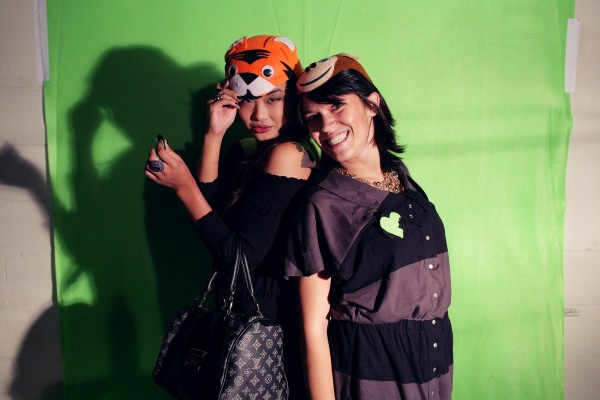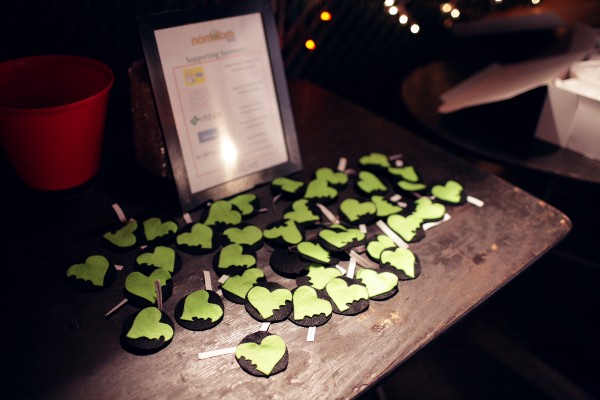 Mmm lemongrass chicken taco!  These were one of the big sellers at the party, I think they will be very popular!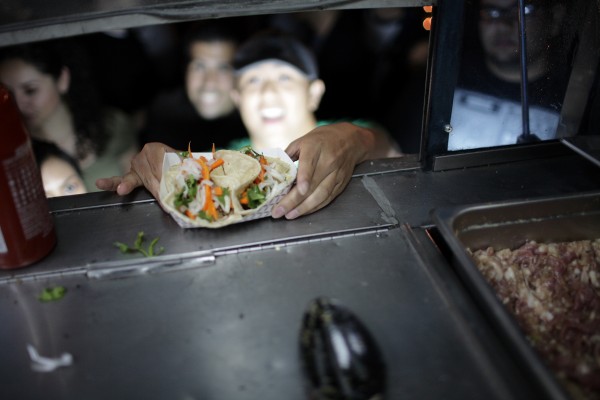 Did I mention the venue was amazing?  Since we planned the event on a Saturday night, we wanted to have a private venue away from the street, but that was also still outside so that we could use the truck.  Luckily we found this great lot in Rancho Park that provided privacy, while still holding our 100 person guestlist.  It was perfect. A big thank you to Dr. Florman for providing us with his lot! :D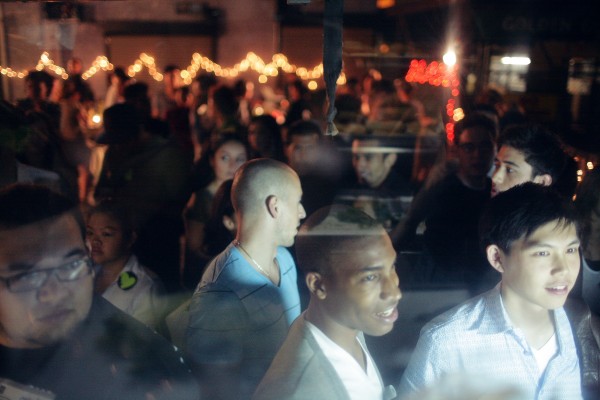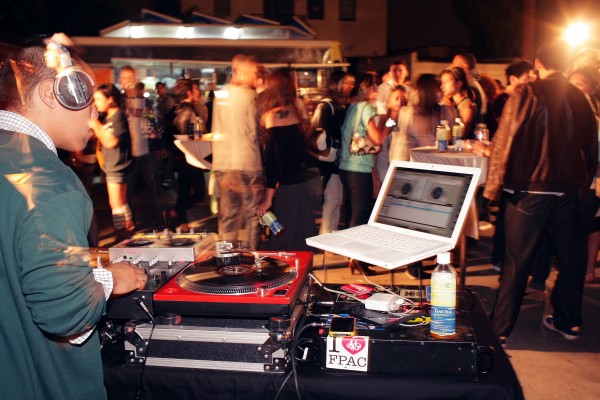 Great friends hanging out at the event!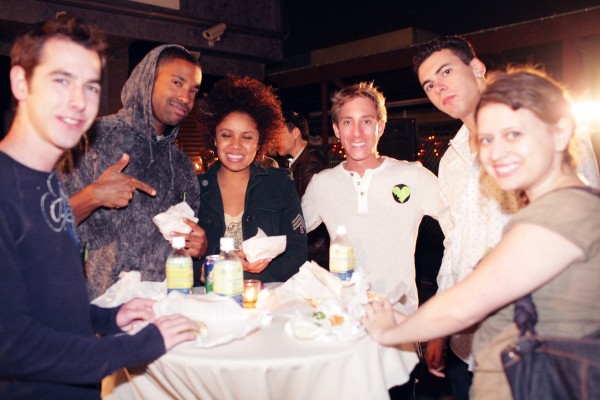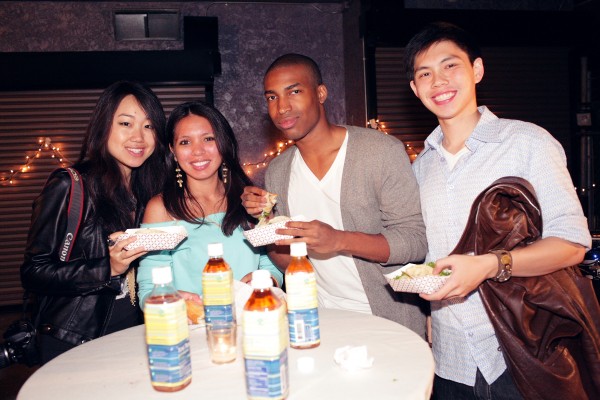 In addition to everything else, the DJ, Jimmy, really set the mood for the event and made it that much better: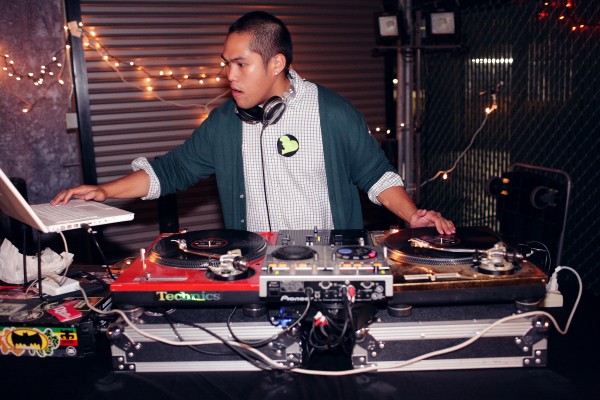 I <3 all of our friends who came out to support us! :)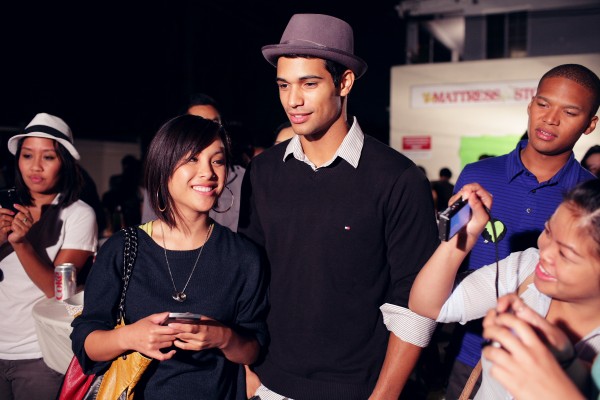 Although we never got a photo together (we were way too busy!) we found Morris and Josh, our friends and mentors at RoadStoves, in this photo, they came out to support us :)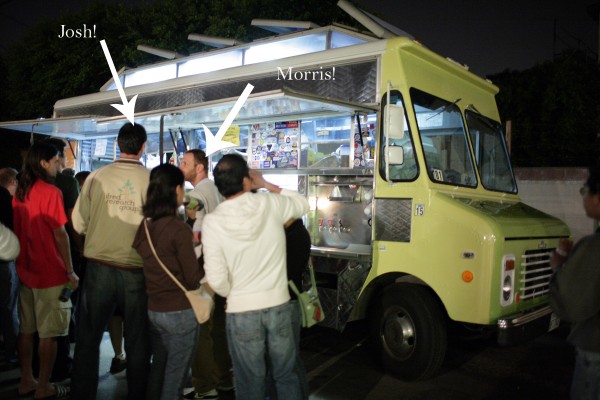 Towards the end of the event we made a toast, thanking everyone for coming and their amazing support.  The event was definetely a success!  We had Hansens Cakes as our sponsor, and they made a lovely Nom Nom cake just for us!  It was delicious, people wouldnt stop raving about it! With a fresh raspberry filling, what could go wrong?  They have locations all over LA- Beverly Hills, Tarzana, and Los Angeles, so you can order it any day :)
In honor of starting Nom Nom, me and my two partners, Jen and David, decided cut the cake (it was like a Nom Nom Wedding!)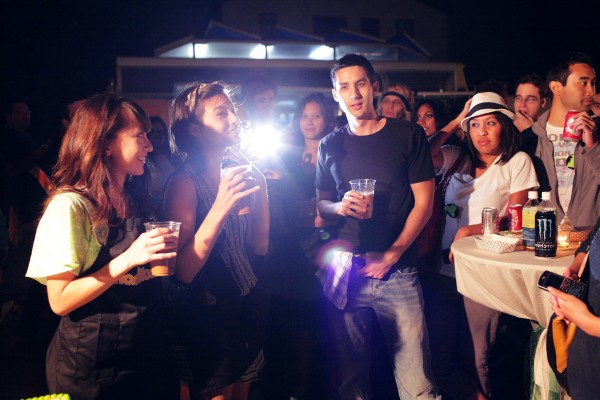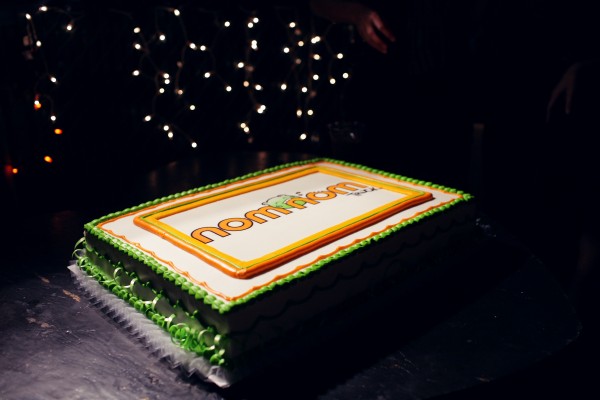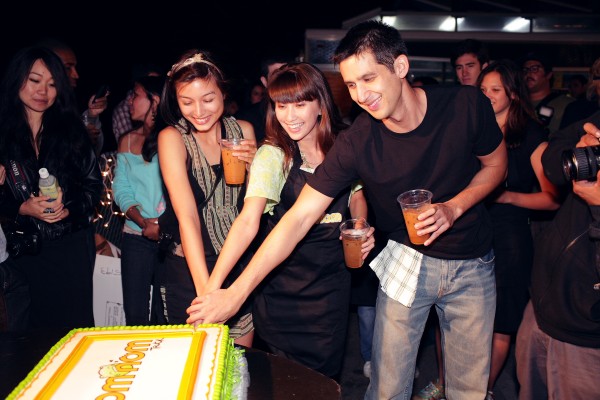 After the cutting of the cake, we began to pack up (it was after 10 PM already!) and we had a tooooon of bread leftover.  Jen and I decided to be bread girls and hand out free Banh Mi bread to anyone who would take it. (btw, these photos are ones I took, not Christophe, notice the crappier quality :P)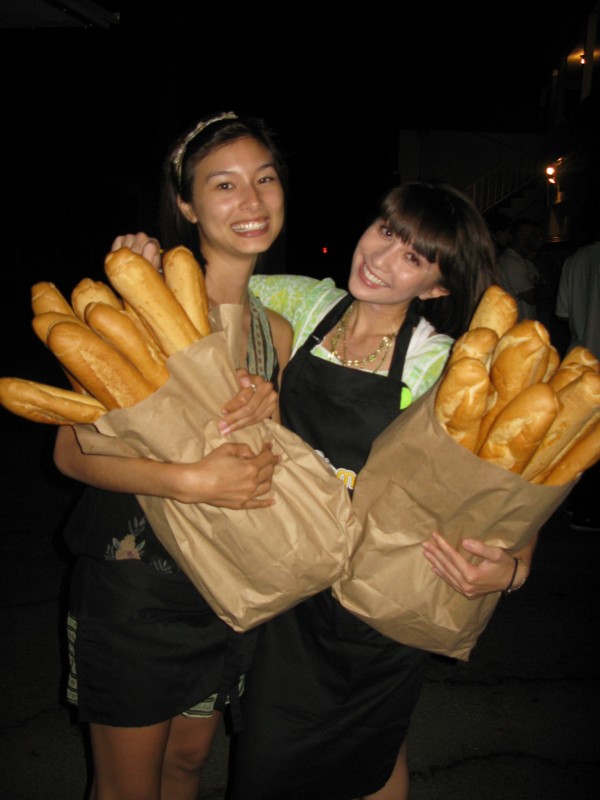 Then it turned into handing bread out in Nom Nom animal hats: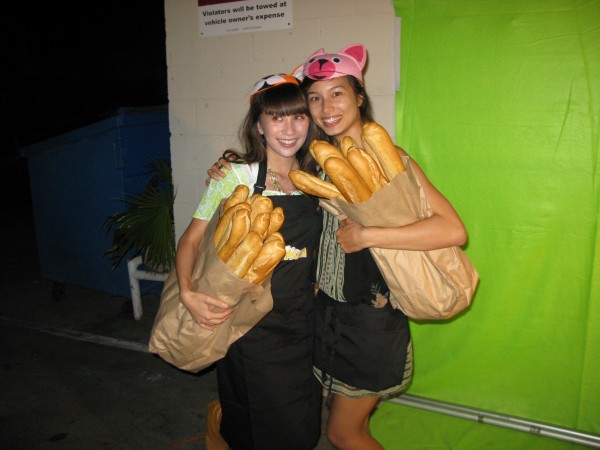 Then we just started having a full on photoshoot.  Banh Mi bread+nomnom hats+nom nom team= HOT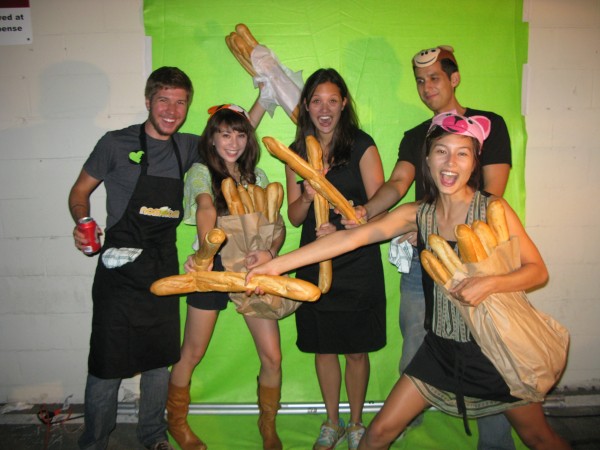 At the end of the night ~11:30 we had to drive the truck back.  I volunteered to drive, since I really needed a driving lesson in the truck!  Although I looked fairly happy in this photo, I was actually terrified.  Im sure Ill get used to it in the future, though (I have to!)  All in all, at the end of the day, I would say our launch event for family and friends was most definetely a success!