What an absolute whirlwind it has been for us to get the opportunity to drive our Nominator all the way from Los Angeles to NYC!  If you would have asked us a year ago we would be competing on a Food Network show, traveling like a band on the road, meeting such amazing people, we would have said: Mmm..ok, would you like Grilled Pork or our Deli Banh Mi.
Misa and I (and everyone else competing) really honed our skills in clean-slating our businesses: finding new suppliers in a matter of minutes, shifting out of our comfort zones and ultimately bending and twisting symphonically with every challenge that was thrown at us.  We love that we get to share our favorite sandwich to everyone, we love how cheerful and how much energy you all have in supporting our random idea of serving food from a truck!  You, our nomsters, are what makes our job so undeniably fun and strives for us to do our best. Thank you for that. Really.
NYC was so awesome. We ended up staying a few extra days to visit with friends, eat copious amounts of rich foods (Momofukus Pork Buns anyone?) and just relax away from our permanent molded car-seat butts.
Congratulations to our friends Matt, Ryan and Joel of Grill em All Truck for winning The Great Food Truck Race. We love you guys! :) Burgers x banh mi!
Here are some photos from our NYC Adventure!
Here I am showing my excitement as Tyler Florence is nommin on my winning Heavy Metal Protogé Burger. Tear it up Tyler!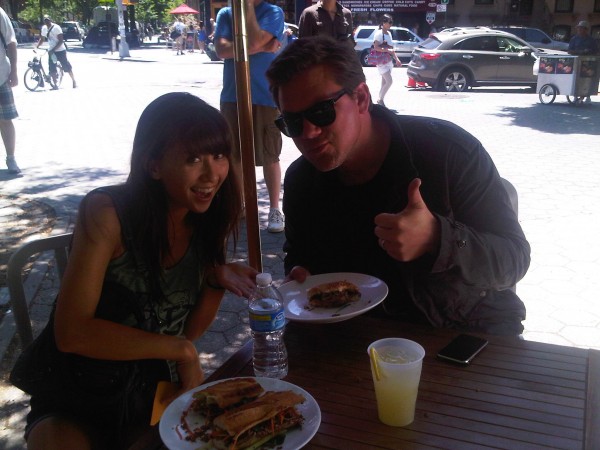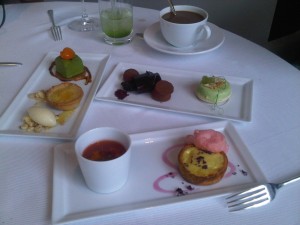 St Georges for celebratory Nom Nom achievment.
On top of the Flat Iron Building!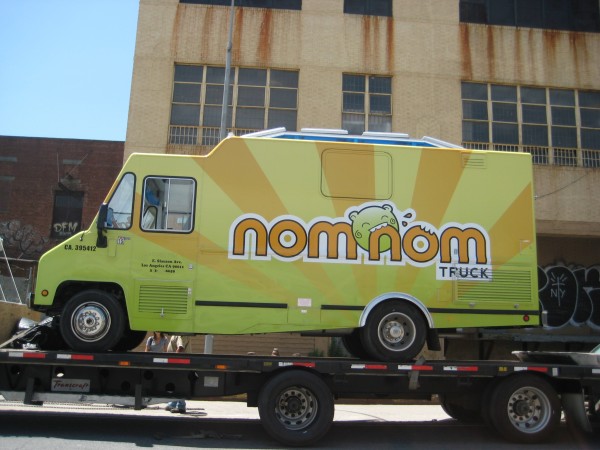 Getting our Nominator flat-bedded back to Los Angeles.  3,000 miles on that bad boy! Nominator needs a lil rest.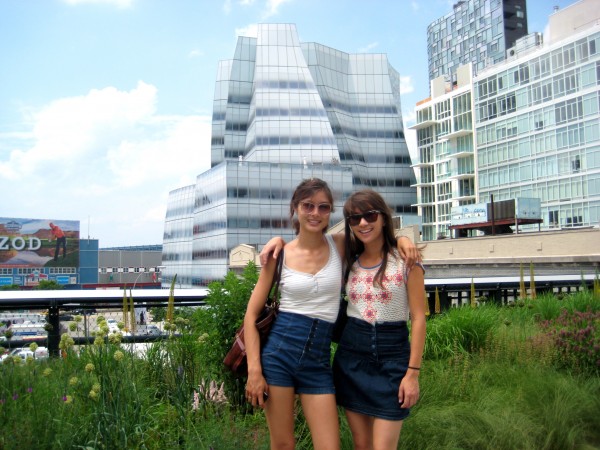 Visiting the High Line Park!