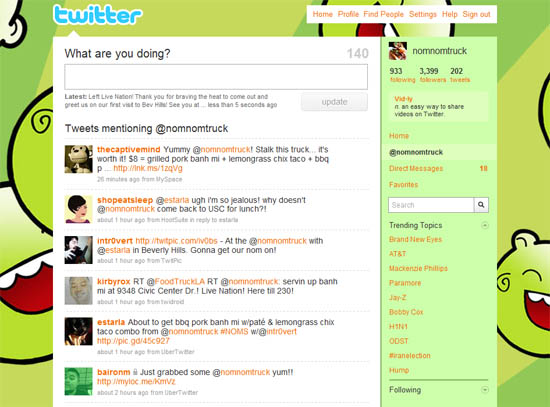 I just added an @nomnomtruck section to our Twitter page.  We see so many awesome tweets directed towards us everyday that I thought it would be nice to repost some of them.  Moving forward, well update the Twitter page on our Web site with new @nomnomtruck tweets that we loved.  Below is what is up there right now:
We are so thankful for all the support we've received via heartwarming tweets.  We read absolutely everything on Twitter, and seeing the positive reaction to our truck has made all the hard work worthwhile!  Thank you so much for taking the time to follow us, tweet about us, and even take pictures of our truck and food!  On those really tough stressful days, it's the @nomnomtruck section that revitalizes us and gets us back out there again!  =)
Recent @nomnomtruck tweets that made us smile (updated 9/23/09):
Joanne

Yummy @nomnomtruck! Stalk this truck… it's worth it! $8 = grilled pork banh mi + lemongrass chix taco + bbq pork taco + iced coffee = :p

intr0vert http://twitpic.com/iv0bs – At the @nomnomtruck with @estarla in Beverly Hills. Gonna get our nom on!
baironmJust grabbed some @nomnomtruck yum!!
mJIHADat the @nomnomtruck. YUMMIEZ!!!!
TimothyDahl@tincanorange @nomnomtruck is delicious!!!