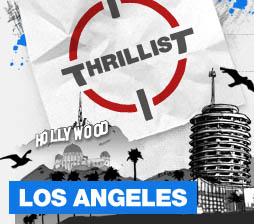 *Launch details will be provided by Thrillists Wednesday newsletter!
Were finally ready to officially take our truck out to the public, launching this Wednesday night at 7pm untilwellwe run out of food or customers!  To help us spread the word of our launch, popular Web site/newsletter Thrillist.com has agreed to feature us as their daily restaurant pick for their Wednesday newsletter!  We LOVE Thrillist.com and their newsletter is probably the only one we actually open on an everyday basis!  For those of you who havent heard of Thrillist, they usually feature one new restaurant opening, or great new club/bar, or cool product, or special event every day.  (We actually first heard about favorites Kogi BBQ and Umami Burger via Thrillists daily newsletter!)
If you like hearing about new under-the-radar restaurants, secret bars, andwellNom Nom Truck, get on the list today!  Wednesdays newsletter will feature Nom Nom Truck, including all the details of our launch (like the LOCATION)!