Hello Loyal Nomsters! We know you guys have been missing us, don't fret, we've been missing you guys too! Thanks to your love and support, we can keep doing what we do.
We wanted to give some of you guys who have pictures with the Nomster a big shout out by posting some of the images here!
Here we are at 1776 Main in SaMo. From awesome Pablo Valentin via Facebook.
Nom Nom Lemongrass Chicken tacos. Aren't they soo purdy?! Nice photography! From pigswillb via Flickr
We love our collaboration days! Thanks for visiting darleeneisms via Flickr.
Night time Nom Nom noshing FTW! Glad you came out Guzzle & Nosh via Flickr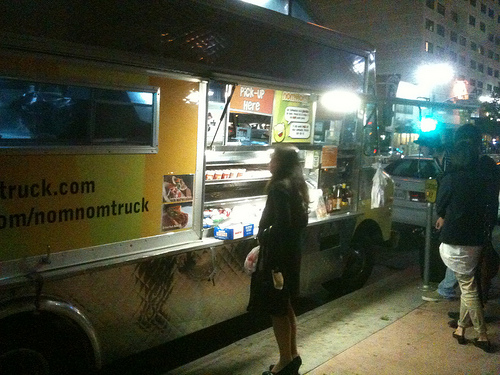 OMG look who! Jenn!!! daviddo via Flickr
Thanks for the awesome pictures fans! Hope to see you guys really soon. If any of your other amazing Nomsters has any pictures with the Nominator, we'd totally love to see!
Anyways, we'll be back on the streets serving up some Nomalicious Banh Mi's real soon. Sign up for our mailing list here to find out when we'll be back in action.